High pressure hydraulic packages
High pressure hydraulic packages for pressure testing, hydraulic tools and machines control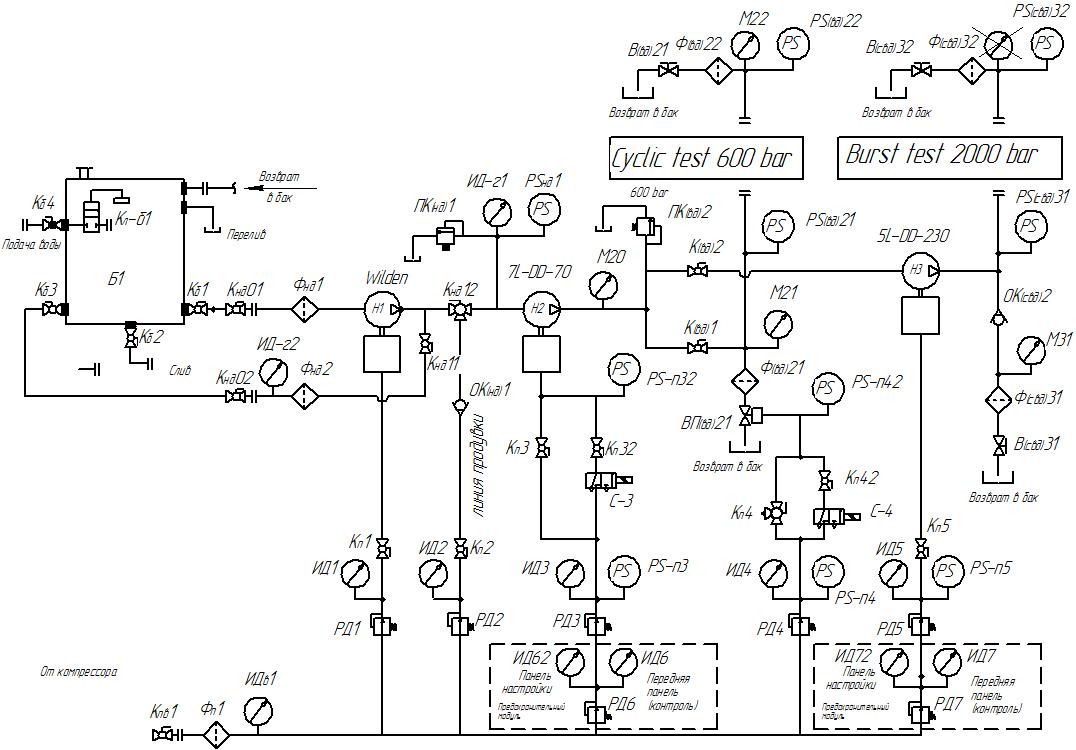 Description
High pressure hydraulic packages based on air driven liquid pumps allow to supply liquids at high pressures and hold required pressure for a long period without bypass lines, frequency converters, and complicated automation.
HII hydraulic packages are ideal for hydraulic testing, hydraulic tools and machines control.
Basic line consisting of 6 standard layouts is ideal to solve relatively simple tasks within a limited budget.
Customized HII solutions including multi-pump packages, pressure test rigs, automated test systems, significantly widen a range of tasks related to liquids supply and injection at high and ultra-high pressures.
Features
Drive type: pneumatic / electric (with built-in air compressor) / hand operated (based pumps 3L series);
Pressure range: 10 - 4,000 bar (150-60,000 PSI);
Capacity range (basic line): 0 - 10 l/min (100 l/min max);
Maximum capacity value (customized rigs): please consult our specialists;
Air drive requirements: industrial oil-free air or nitrogen 5-10 bar (70-150 PSI);
Special versions of pneumatic drives: associated petroleum gas driven, natural gas driven;
Outlet pressure adjustment: smooth, continious, medium/high accuracy, over a wide range of operating pressures;
Flow rate adjustment: smooth, continuous, over a wide range of flows, low/medium accuracy.
Advantages
Do not contaminate the pumped liquid - ideal for pumping high purity liquids;
Ideal for pressure control tasks - in some modes more efficient than analogues with electric drive in tens, or even hundreds of times;
Do not heat the pumped liquid in any operating mode - do not require a heat exchanger;
Do not require bypass valve, bypass line for pressure adjustment;
Do not require frequency converter. "Automated" operation without automation devices;
Unlimited start/stop frequency - designed for operation under severe cyclic loads;
Resistant to hydraulic shock as a result of hydraulic fracturing of the product;
Very wide, very smooth, very simple and quick adjustment of the outlet pressure and flow in a wide range from zero to maximum values;
No electric supply required;
Fire and explosion proof;
Resistant to long-term operation in dry mode, high cavitation quality, self-priming;
Compact and lightweight - mobile solution.
Restrictions
Not designed for pumping contaminated liquids, liquids with mechanical impurities;
Flow restrictions - please consult our specialists;
Significantly more expensive than similar electrically driven solutions for hydraulic cutting, washing, blasting, and also pressurizing of the high volume vessels ( >100m3), pre-filling high volume vessels and systems ( >10m3) - where a constant high performance is required;
Do not pump gas phase;
Not designed for high-accuracy dosing.
Fluids
Clean water, industrial water, water with oil products, water with corrosion inhibitors;
Distilled water, deionized water;
Industrial oil, hydraulic oil, aviation oil, mineral oil, synthetic oil;
Brake fluid, Skydrol;
Hydrocarbons, solvents;
Antifreezes, ethylene glycol, non-freezing liquids.
High purity Liquids.
Explosive, flammable liquids.
Chemically active, corrosive liquids.